Postcards
Postcards are an inexpensive and effective way to reach your audience. These targeted marketing pieces can quickly convey key messages and promotions. Direct mail and postcards are simple and effective. Trust our staff to create a custom postcard (available in all shapes and sizes) for your business.
We specialize in:
Business postcards
EDDM postcards
Invitation postcards
Thank You postcards
And more!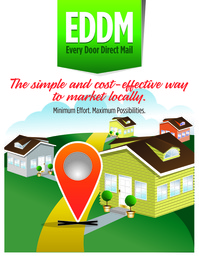 We can help you with your Every Door Direct Mail campaign. Postage is only $0.175 per piece! This is a great way to get your information into the hands of your customers.


What is Every Door Direct Mail?
USPS® Every Door Direct Mail® (EDDM®) is an affordable targeted advertising service that lets you map your marketing mail audience by age, income, or household size. You can use the EDDM mapping tool to choose the ZIP Code™ and carrier route that will target your best possible customers—current and future.
---